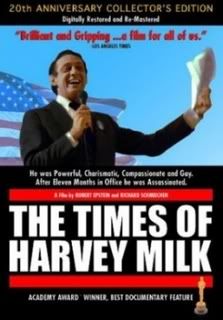 The Times of Harvey Milk
(1984)
directed by Rob Epstein
starring: Harvey Milk, James Fierstein
Winner of the Academy Award for Best Documentary Feature in 1985,
The Times of Harvey Milk
uses archival footage and interviews to reconstruct the political career of the first openly gay elected official in the United States. The film briefly details
Harvey Milk
's campaign, his eleven month stint as a City Supervisor in San Francisco representing the new gay neighborhood in the Castro, his fight against Proposition 6 (a California ballot initiative that would have made it possible to fire all gay teachers and anyone who supported them) which gave Milk statewide and even national prominence, and his assassination by one of his colleagues, Supervisor Dan White, who also assassinated Mayor George Moscone. The final twenty minutes of the film follow White's trial, where his lawyer successfully convinced the jury that a combination of financial stress, family trouble and junk food caused White to become temporarily insane -- a travesty of justice that became known as "the Twinkie defense." White was convicted of manslaughter and served only six years in prison. He was released in 1984, the same year as the film (and committed suicide three years later, though that's not in the documentary).
On its artistic merits alone
The Times of Harvey Milk
is a pretty standard documentary: archival footage and audio supporting interviews with several of Harvey Milk's friends and political allies, all stitched together by James Fierstein's narration. But the filmmakers have done the one thing that every documentarian hopes to do -- they've found a story that is both fascinating on a human level and relevant in a larger social context.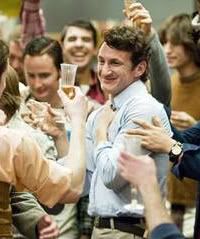 Milk
(2008)
directed by Gus Van Sant
written by Dustin Lance Black
starring: Sean Penn, Emile Hirsch, Josh Brolin, Diego Luna, James Franco
So, with such a wonderful, critically acclaimed documentary in fairly wide distribution, did director Gus Van Sant
(My Own Private Idaho, Good Will Hunting, Elephant)
need to give Harvey Milk the Hollywood treatment? Yes, I think he did. As we watched Sean Penn (as Milk) and his minions fight against Proposition 6, I doubt anyone in the audience could keep themselves from thinking of the recent battle against Prop. 8. That's a sure sign that the story of Harvey Milk needed to be told again, after 22 years. Sean Penn's performance is superb. Penn has clearly spent quite a bit of time looking at old video to get Harvey's mannerisms and voice right, but he gives his version of Milk something more than I saw in the documentary: a quiet vulnerability. Penn's Milk is fiercely determined, yes, but he's also a man who wears his heart on his sleeve no matter how much the birds peck at it. This touching performance rescues the film on the rare occasions when Van Sant and screenwriter Dustin Lance Black lay it on a little too strong -- such as the midnight phone call from the handicapped, suicidal gay teen or the attempt to turn Harvey's relationship with an ex (James Franco) into a romantic through-line even though it wants to be a close friendship.
Van Sant and Black aren't just trying to recreate the documentary with actors and that's what ultimately makes
Milk
a success. They use the historical events and a lot of the archival footage from the documentary as the skeleton of their film but then spend most of their time focusing on Milk himself. We see Milk as a Wall Street broker decide to come out of the closet and move to San Francisco. We see his humble entry into politics in the Castro, his three failed election campaigns, the suicide of someone close to him, and his role as a mentor to future AIDS activist
Cleve Jones
. The film also explores the motivations of Dan White in a way the documentary couldn't. Since we can only speculate about why he did what he did, the documentary could only follow the trial.
Milk
can show a fictional White (Josh Brolin) becoming more and more erratic, rejecting Harvey's attempts at friendship, and eventually surrendering to some personal demons which may, the film suggests without insisting, have included his own secret homosexuality.
Sean Penn's performance and Gus Van Sant's light touch make
Milk
one of the rare biopics that can actually stand on it's own as a good movie. But the experience of watching it will be vastly improved if you see
The Times of Harvey Milk
as well, and since the documentary is
available for free at Hulu.com
you really have no excuse not to, even if it isn't carried in your neighborhood Blockbuster.