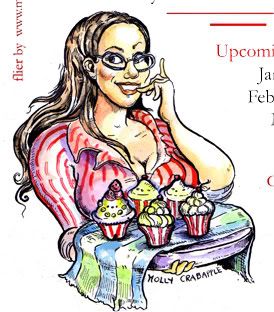 Tonight I went to the
In the Flesh Reading Series
where Rachel Kramer Bussel's topic of the month was nerd sex, a topic after my own heart. A lot of the readings were rather off topic although still good.
The two stories that stood out most to me, however, were also the two nerdiest.
Mike Albo
read a story set in the fantasy world of pornographic spam e-mails. Mike prefaced his story by saying he does nothing but stare at his computer and masturbate all day and then read an extremely witty and hilarious piece where buxom fantasy sluts who write in broken English hit on the reader, go on about their affairs with butterflies and the Nike logo and then transform into desperate bored gay men or sex-starved Midwest housewives.
Emerald
closed the evening with the only actual erotica story of the evening -- that is to say, the only one with an explicit sex scene. In it, the protagonist takes her broken laptop to the Apple Store Genius Bar, meets three beautiful computer geeks who she invites into the back alley, one at a time, to fuck her while the others fix her computer. The story is apparently in
Best Women's Erotica 2010
and was so hot that I'm planning on picking up a copy just so I can read the whole thing.
All in all, it was an even more fun time than usual -- nerdy sex stories warm my comic-loving, sci-fi watching, little Trekkie heart. Here's hoping Rachel comes back the the topic with more actually nerdy material. Nerds rule most every sex subculture, so you know there's gotta be some great material!