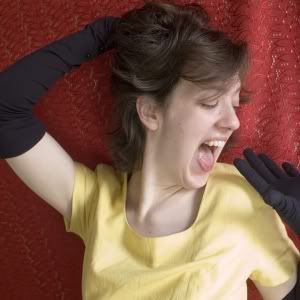 Last night the
Bi Writers Association
hosted their second annual reading by bisexual authors to coincide with the
Lambda Literary Awards (Lammies)
. Since it is a requirement of all bisexual events that the name has to be a pun, last night's reading was called Bi Lines: A Celebration of Bisexual Writing in Reading, Music and Theater.
Sheela Lambert
was the master of ceremonies.
There was a wide range of subject matter, including a readings by Edmund White from his new book about Arthur Rimbaud and Jenny Block from
Open
(
reviewed here
), musical performances by Rorie Kelly and Rob Barton, a slideshow of artwork from Christy Road's graphic novel
Bad Habits
, a bisexual Jane Austen parody by Ann Herendeen, memoirs by Bobbie Geary and Honor Moore, and Ron Suresha's thoughts on the sixtieth anniversary of the Kinsey Report. Rachel Kramer Bussel was there too (not really a surprise, she shows up
everywhere
) with a reading from a soon-to-be-published story about a girl getting off to her boyfriend's tale of his lust for his college roommate. The story was freakin' hot. It was nearly open insurrection in the room when the organizers cut this story short for time.
I think most people would probably agree the evening's highlight was an excerpt from Erika Kate MacDonald's one-woman show
Fluid
, which is about her sexuality. With the help of some hilarious visual aids Erika postulated a mathematical theorem to explain how gay a bi person is, which involved a stunning array of variables and calculations that would have boggled Isaac Newton's mind. Though the formula clearly proved she was 90 percent gay (ironically, in case you're wondering) Erika also told the story of how she fell for a guy at age 25 and had to explain to him that she'd never slept with a man before.
All in all it was a fantastic evening. I don't go to many bisexual events. I'm not bisexual (so far, but I am experimental so anything could happen) and a straight guy's motives for showing up at a bi event are rightly suspect -- so I always feel a bit like I'm the riff-raff they're trying to keep out! Last night was more a gathering of writers and I definitely felt at home in that crowd. I was very impressed with the variety of the works which transcended a narrow topic and offered a lot of insight on everything from gender roles to bi eroticism to history; and showcased the work of some very talented people.