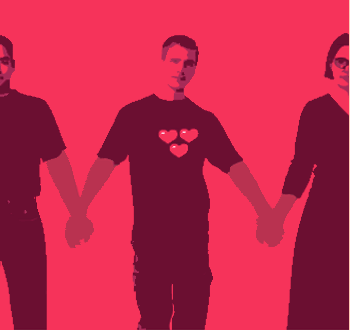 What's polyamory? The blog's still new so let me define that basic term. It means a lot of different things to different people, but basically it means dating nonmonogamously. A polyamorous person believes that sexual monogamy is not a necessary ingredient in love, and as long as everybody knows what's going on it's okay to have sex and fall in love with more than just one main squeeze. If you've heard of swinging, ménages à trois, or open relationships, you've heard of polyamory.
Last weekend (October 3-5) was Poly Pride in New York City and yours truly was there for most of the events. As usual,
Polyamorous NYC
did a great job organizing.
The kick off was definitely the most fun of the whole weekend. On Friday night Reid Mihalko and Marcia Baczynski, founders of the even popular
Cuddle Party
, hosted a "super massive" version of their signature event at the LGBT Community Center in Greenwich Village. With a hundred and twenty people in attendance it was the biggest Cuddle Party ever, according to the hosts. The Cuddle Party is a workshop that teaches people how to safely touch others and be touched and
not
be touched in our touch-starved, touch-phobic culture -- but mainly it's a chance to cuddle with hot friends and strangers!! I cuddled with a sexy art student from out of town, and made a few new friends to boot. I also got to meet Cunning Minx and Alan from the
Poly Weekly podcast
, which was a hoot. I had talked to Alan for twenty minutes before I recognized his voice.
The next day was the Poly Pride rally in Central Park, hosted by Hedda Lettuce, the greenest drag queen in the five boroughs. There were some great speakers like Cunning Minx, Robyn Trask from
Loving More
and sex columnist Tristan Taormino, not to mention a hilarious poly clown show. It was followed up by an afterparty which was a bit of a disappointment to me. Last year's party was a much more mellow outing featuring a performance by the inimitable
Wet Spots
. This year the organizers opted for a more traditional dancing and loud techno music sort of evening. I couldn't hear a word anyone was saying. That's ironic -- polyamory is supposed to be all about communication! The weekend concluded at
Bluestockings
bookstore with a reading/signing of two new books about polyamory:
Opening Up
, by Tristan Taormino and
Open: Love, Sex and Life in an Open Marriage
, by Jenny Block.
Nonetheless it was a great weekend, a celebration of one of the most accessible, most feared, least understood kinds of alternative sexuality.