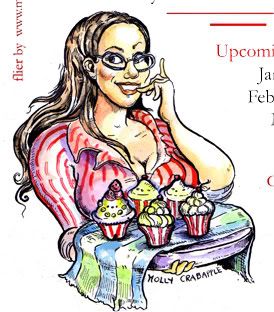 Last night found me and one of my friends on the Lower East Side of Manhattan in a bar named, quite appropriately, Happy Ending. The occasion was
Rachel Kramer Bussel
's monthly
In the Flesh reading
, where writers of erotica and other sexy writing come together to read their work. Bussel, a prolific erotica writer who also edits
Penthouse Variations
and numerous books such as
Spanked
and the
Best Sex Writing
anthology, has been hosting this event for several years and it's apparently a great success. The bar was standing room only.
The first reader was
Anna David
. She read from
Bought
, her second novel, about a naïve journalist who is investigating the world of high-end LA escorts. The scene we got to hear was about the journalist meeting a call girl she is destined to befriend and being shocked by the tale of her relationship with a powerful, married film producer.
Robin Glasser
read next from her book
My Life as a Concubine
. This turned out to be a rather Henry Miller-like book, a memoir of the author's bohemian life in Paris. In the section we were lucky enough to hear, the author's hot sex with her boyfriend is made even hotter because he is arguing with his visiting brother through the closed door -- a "verbal ménage à trois."
Mara Altman
graced us with an excerpt from
The Quest for My Orgasm
, a sex scene described in some of the funniest, wittiest terms I've ever heard. Altman was particularly good at capturing the humor in sex, one of the most delicious parts of the whole experience and one of the most often ignored.
After the break
Craig Yoe
graced us with a slide show from his book
Secret Identity
, about Superman creator Joe Shuster's second career illustrating kinky pulp stories. I read and
reviewed Secret Identity
a few months ago. Yoe's goofy sense of humor doesn't come across in the book, so I was happy to see him read in real life.
Jeremy Edwards
read next from
Oysters and Chocolate
, a story about a man whose fantasies about a coworker who doesn't know he exists finally come true.
The last reader
Suzanne Guillett
read an untitled memoir of "a very memorable summer that happened a few years back." Recently engaged and on a month-long writer's retreat in Prague, the author joined a gym and studied boxing with a Czech man. The piece is the story of how she fell in love with him through boxing lessons, the only kind of touch their situation allowed.
If you're not lucky enough to live in New York and can't attend the readings yourself, never fear:
RKB posts video clips of the readings on You Tube
. As of this writing the videos from last night aren't up yet but there's a wide variety of other videos there, so eat your heart out.