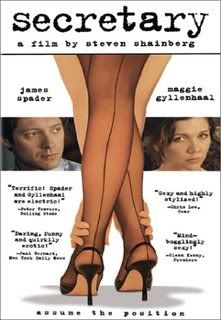 Secretary
(2002)
directed by Steven Shainberg
written by Erin Cressida Wilson, based on a short story by Mary Gaitskill
starring: Maggie Gyllenhaal, James Spader, Jeremy Davies
Before you see it you expect the clichés: leather, whips, corsets and high-heeled, knee-high boots. You won't see those things at any time in
Secretary
. What you will see in the film's hypnotic opening shot is Maggie Gyllanhaal slinking gracefully through the office in a normal, if slightly old fashion, skirt and blouse and -- oh, yes -- her wrists restrained at the ends of a positively dainty spreader bar linked to her leather collar.
Secretary
is a romantic comedy about a dominant-submissive relationship that forms between the titular secretary, Lee Holliway (Maggie Gyllenhaal), and her shy, sensitive lawyer boss, E. Edward Grey (James Spader). Miss Holliway and Mr. Grey's relationship doesn't involve much violence, aside from one fairly memorable spanking scene. What is on display in this movie is the care and attention to details necessary for one person to sweep another away in a healthy, loving power dynamic relationship.
I recently rewatched the movie with a group of friends, including one who had never seen it before and wasn't much for BDSM. This friend's discomfort was palpable all the way through the movie. Men and women alike, we have become feminists. We like our women empowered. That's why the paradox posed by
Secretary
fucks with our heads the way that it does. Should women be so empowered that they have the right to give up that power to a man they trust? If you think the answer is yes, you're probably in the minority, sadly enough. The beauty of
Secretary
is that it posed as a harmless little romance and put that question out there for a mainstream audience. It's also difficult to deny how hot it is to watch Lee and Mr. Grey's little
pas de deux
, so if you are one of those who think what they're seeing is wrong the filmmakers have pretty successfully implicated you in the crime they're staging.
The characters in this movie are probably the world's perfect dominant and perfect submissive, which is a credit to both the screenwriter and the actors who bring them to life. Lee comes from a dysfunctional family. She has developed a deep need to please those around her and the unfortunate tendency to punish herself with pain when she can't. In Mr. Grey she finds someone who will always appreciate her efforts to please him and who can change the punishment from a ritual of self-loathing to an erotic and pleasurable activity. Mr. Grey, meanwhile, is an intelligent man who is very anal about details and hates himself for using these two characteristics to imagine elaborate tortures to show his affection for the people he loves. In Lee he finds someone who enjoys his affections and really wants to know the side he has kept hidden from everyone.
If the ending is a little unrealistic -- Lee's public act of self-humiliation would probably ruin Mr. Grey's law practice in the conservative suburb they inhabit -- you can't blame a romantic comedy for concluding with melodrama. And don't make any mistake, this is definitely a romantic comedy, complete with the cliché of the woman in the wedding dress running to the one she actually loves in one final, desperate attempt to win his love. Except that in this movie her beloved orders her to stay perfectly still for three days and she ends up urinating in the wedding dress. That's not such a big difference, right?