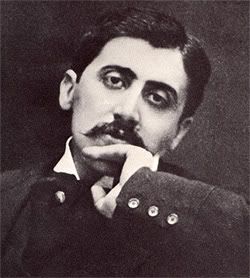 I have spent the month of November -- which is National Novel Writing Month, after all! -- working on the novel I started this summer. It is set in the 1950s and 1960s, and it is about obscene literature and sadomasochism.
In the section I have been working on for the past week and a half, a character makes the argument that the pulp fiction of the '50s is nothing new, and that its writers are in fact part of a long literary tradition. I've been exploring this idea by tracking down works of literature that address this subject matter, and today I finally tracked down this quote from Marcel Proust. It appears on page 162 of the Gallimard edition of
Swann's Way
, as the young narrator spies on a lesbian couple having some kinky sex:
"Les sadiques de l'espèce de Mlle Vinteuil sont des êtres si purement sentimentaux, si naturellement vertueux que même le plaisir sensuel leur paraît quelque chose de mauvais, le privilège des méchants. Et quand ils se concèdent à eux-mêmes de s'y livrer un moment, c'est dans la peau des méchants qu'ils tâchent d'entrer leur complice, de façon à avoir eu un moment l'illusion de s'être évadé de leurs âmes scrupuleuses et tendres, dans le monde inhumain du plaisir."
TRANSLATION:
"Sadists like Mademoiselle Vinteuil are such purely romantic beings, so naturally virtuous, that even sensual pleasure to them seems like something evil, the privilege of the wicked. And when they allow themselves to give in to it for a moment, it is in the guise of evil that they try to dress their accomplice, so as to have, for a moment, the illusion of having escaped from their scrupulous and tender souls, into the inhuman world of pleasure."
That's an astonishingly open-minded and, I think, accurate description of the kind of people who are drawn to BDSM, especially when you consider that it comes from a book published in 1919!