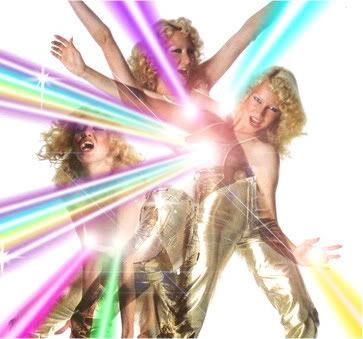 I used to spend my Saturday morning lying on the couch watching cartoons. Now that I've grown up I spend it lying in bed surfing around the Internet. It's the same basic concept.
My favorite site of the morning (so far): a blog called
Lazer Tits
. The name pretty much describes it. It's a bunch of retro girlie pictures the subjects of which have apparently discovered, after all these years, the ability to shoot lasers out of their tits. And these bloggers have decided to showcase these talented ladies in all their disco glory (and, as you will see, it is a
lot
of disco glory!).
You know, every once in a while I tell someone the title of this blog and they don't get what geeky has to do with sex and I have to try to explain it. From now on, I'm just going to send them to Lazer Tits.
Via Slog