First, a word of introduction. I've been trying to think of new ways of breathing life into this blog and it occurred to me that there are a lot of sexy comics out there -- and a lot of them are on my bookshelf. And since comics and Sundays go together, a new feature was born -- the almost weekly sexy comic book review!
I'm going to review a bunch of different comics, ranging from pornographic to artistic to pornographic to foreign. I suppose my
review of Scalped #36 & 37
, my
post about Aunt May's love life
, and my recent
comments about superhero sex in the DC Comics relaunch
also fall in this category, retroactively. I'm going to choose them based on what I'm interested in -- sex scenes will be less important than thoughtful sexual subject matter. Some comics you can expect to see reviewed soon are Alan Moore's
Lost Girls
and Alison Bechdel's
Fun Home
.
But for my first review I'm going to do something more recent: a short, poignant story that came out just a few weeks ago, and that took me by surprise -- and a very pleasant surprise it was, too. Sometimes sexy comics, like love, find you when you're least expecting it.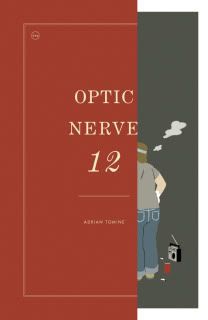 Optic Nerve #12
written and illustrated by Adrian Tomine
Drawn & Quarterly, 2011
This issue contains two stories and it's the second one, "Amber Sweet," that is getting it a review here. The story is a simple one. A young college student notices linger glances, secretive whispers and lewd comments when she walks by, and is surprised to learn that she looks just like an Internet porn star named Amber Sweet. Little by little, her life is disrupted by the coincidence -- she drops out of school, moves, and breaks up with boyfriends, all because of Amber. Then, one day, she's sitting in a café and Amber walks in. The story is about an afternoon that they spend hanging out.
Tomine is an enormously subtle writer and artist who puts a world of meaning into every word and every line. His stories are simple and beautiful and sad. Like all of Tomine's work, this vignette has a melancholy feel to it, and an ending that's less like the ending of a story and more like an ending in real life -- that is to say, a partial resolution that doesn't necessarily make it all worth while. Amber is a good person who destroys the protagonist's life through no fault of her own. The protagonist seems to know, in her anger, that Amber isn't to blame. She never expresses who is to blame. A society that worships and shames sexually powerful women in the same breath?
That seems to be what Tomine is saying, but he lets us arrive at that idea ourselves. To Tomine, this is a story. It is not a tract, and he doesn't have an agenda. Reading it, I felt connected and disconnected from it all at once, which is how I think Tomine's characters feel about the world they inhabit as well. The ability to transmit a feeling of ennui to his readers through his extremely poignant but oddly empty writing, and his extremely well drafted but oddly sterile illustrations, is probably the reason Tomine enjoys such a large following.